Fashion Chains
We make stylish chains used as snake chains, ball chains, bead chains, tag chains for dog tags, name tags, I.D. tags, key chains etc. Materials include aluminum, copper, iron, white iron, plastic and more... Thickness or diameter comes with 0.35mm to 6mm.
Fashion Chain Series 9.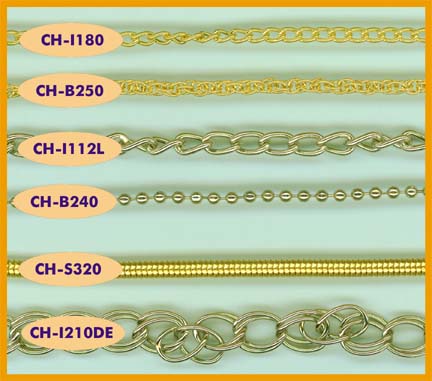 <Click> For bigger picture of
Fashion Chain Series 9: Fashion Chain Series: Snake Chains, Ball Chains, Bead Chains, Tag Chains
Main Menu - Fashion Chains, Clothing Chains, Shoe Chains, Belt Chains, Pet Chains
---
---
---
Order Hot Line Call: 1- (800) 921-5523

Contact UMX: info@umx.info
UMX- Universal Mercantile Exchange, Inc.

Copyright ©UMX - Universal Mercantile Exchange, Inc., 1998 (All Rights Reserved)